/casually posts review in the midst of everyone's spazzing over the new activity feature/
MY EYES ARE STARING INTO YOUR SOULS ʘ‿ʘ
It's been a while since I reviewed lenses @__@ & I didn't expect these to come in this week either! Today I'm reviewing a pair of lenses that were sponsored by this shop called kpop2!
This is an online shop that ships from Korea! They have many unique designs and a lot of their lenses are around $10! They shipped my lenses out last week and it arrived in exactly one week to me :D
The pair that I chose to review is called "[MI Circle Lenses] Butterfly Black"!
I'll give you the basic info for these lenses first!
13.3 mm 
Life span: 1 year (but they recommend 6 months!) 
Water Content: 38%
The lenses arrive in a cute pink air packet.  They give you a free lenses case (of course!) and the pair(s) you ordered will be tightly and safely wrapped in bubble wrap!
They look like this when they're in the lenses case :D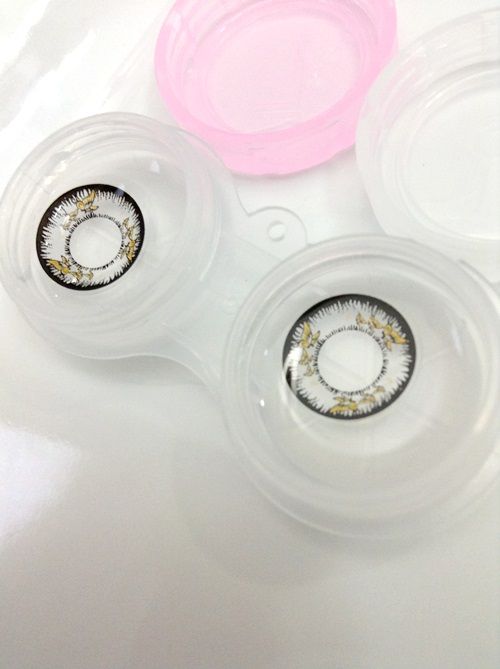 **TIP** When I opened the little bottle to get the lenses out, I noticed that unlike the normal vials you get when you buy circle lenses, they don't have a little arrow pointing upwards at where you're supposed to open.  Instead, on the cap, there's a little indent, THAT is where you're supposed to open.  I didn't know that at first and I opened one from a random corner and ended up prying the metal seal off with a pair of tweezers…so yeah!  Make sure you look for a little dent in the cap!
I really like these lenses!  When I put them on to take pictures for this review, I stared at myself in the mirror and I was trying to figure out whether or not I really put them in!  I really like how on the lenses, there's a little gold butterfly design.  
These aren't my eyes, I took the picture from the site (because I wasn't able to get good pictures of my own eyes I'm sorry ;_;)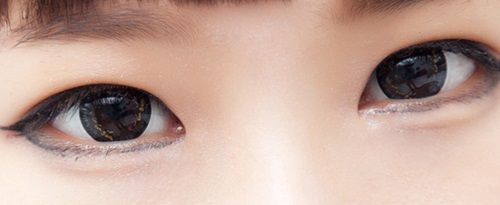 You can sort of see the gold design!  It's like that for me too, but it isn't really noticeable.  They're really comfortable, and it was really easy for my eyes to adjust to these lenses right away when I put them in.  Usually when I put a pair in, I have to blink like 9184028410481 times to get the small bit of irritation out.  I didn't even need to do that with these!  Because I have small eyes, the 13.3 mm size fits perfectly and looks natural.  I recommend these for people who have small eyes and wants to wear circle lenses :D  I think these would be a good starter pair too if you're a beginner!  Thank you for reading! 
4 months ago | 03:05pm
61 notes · Tagged: #i didn'tknow that there was a 13.3 mm size #is that even possible #sponsor #kpop2 #rv #circle lenses #mypic